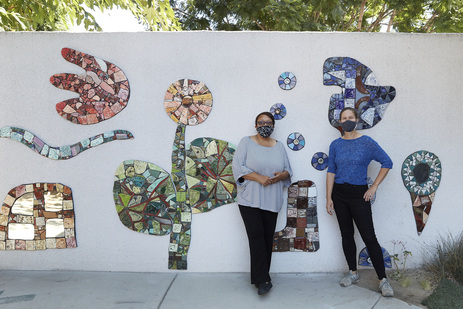 "Favorite Things," 2020, University Village, Los Angeles, CA
Favorite Things is a ceramic tile mural that was installed on one of the interior play yard walls at University Parents Nursery School, University Village, Los Angeles in the fall of 2020. UPNS is located at the UCLA family housing complex which houses students and their families from all over the world. UPNS serves children aged two to five years old. The shapes in Favorite Things were inspired by drawings created by the children at the school. Tiles were created by all students, teachers and staff at a series of tile making workshops.
---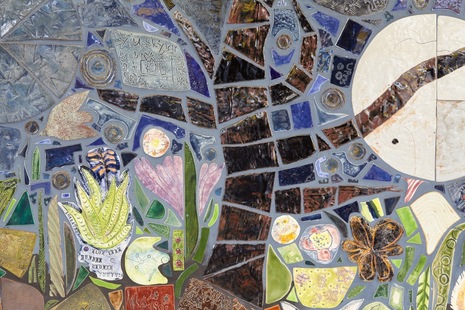 "The Garden," 2016, University Village, Los Angeles, CA
The Garden, a 17 foot long ceramic tile mural, was completed in 2016 to commemorate the 50th anniversary of the University Parents Nursery School in Los Angeles. The project was a collaboration between myself and the students, parents, faculty and staff at the school. The mural depicts a garden scene that moves from night to day, and it's imagery points to the cycles of nature. Each class at the school contributed to a different aspect of the project. The youngest children rolled out the worms for the "underground" section of the mural, while other children created flowers, leaves and insects. Installation was completed by tile mason Andy Jimenez
---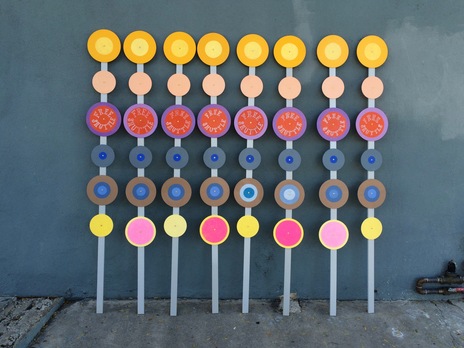 "The Bullseyes," 2015, commissioned by Mar Vista Art Walk, Los Angeles, CA
The Bullseyes (2015) are a series of eight wooden signs commissioned by the Mar Vista Art Walk. The signs identified free shuttle bus stops along the art walk route. The free shuttle bus was adopted by the Mar Vista Art Walk as a way to include differently-abled folks in the event.
---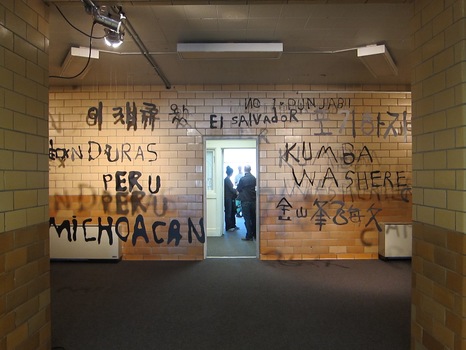 "Kumba Was Here," 2010, Former INS Building, Seattle, WA
Kumba Was Here
(2010) is a site specific installation in Seattle's former Immigration and Naturalization Services building. In 2004, after 72 years of continuous use, the INS building was closed and sold to a developer. After getting input from Seattle's immigrant community, the buyer turned it into artist studios. I moved in in 2010 and was one of the first artists in the building. Walking the halls, it was impossible to ignore the building's grim past. The courtyard served as a waiting area for detainees and the graffiti that remains on the walls often denotes names and places of origin.
After working in the space for a few months, it became clear that I would need to make a piece that dealt directly with the history of the building. While the building had witnessed some joyful moments (it was the place where new citizens were sworn in) it also served as a detention center and it was clear that much suffering had taken place here. "Kumba Was Here," is a meditation on the people that waited in that courtyard. By following and enlarging their handwriting, I tried to amplify and pay tribute to their voices.